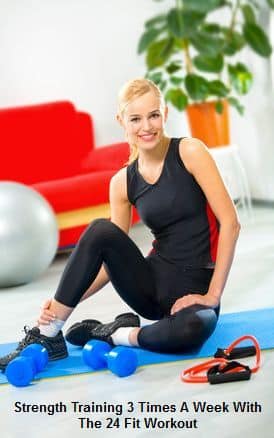 If you are looking to increase your metabolism and strength while getting lean and toned, and who isn't, you need to weight train! Lean muscle burns more calories so if you want to decrease body fat, perform better, train for an event or just look & feel great, then plan to strength train 3 times a week for 30 mins.
Why Strength Training?
To increase your resting metabolism, decrease blood pressure & body fat
Reduce bone deterioration and build bone mass to prevent osteoporosis
Strength training done properly with clear instruction from the  24 Fit Workout DVDs and with planning will NOT give you large muscles, but increase your metabolism which burns more calories and transforms your body into an efficient machine with the tone that we all strive to attain!
Gong away this summer? Take the resistance bands with you they are light and can easily packed in your suitcase.
Nutrition
Replace high fat, high calorie, high sugar, high preservative, low nutrition foods with low fat, low calorie, low sugar, nutritionally dense food ..its called Herbalife Formula 1, the worlds no.1 nutritional meal replacement!
To help preserve muscle mass, aim for at least 15 grams of protein at every meal, the amount of protein is personalised to the individual. Someone who is 5ft 10″ requires more protein than someone 5 ft. 2″, for example. And a Herbalife shake after training accelerates lean muscle growth, which in turn revs your metabolism and burns more fat, and speeds up recovery. Eating soon after your workout not only speeds the recovery process, it also can prevent you from feeling deeply ravenous and overeating later on.
#30minuteworkouts
#strengthtrain3timesaweek